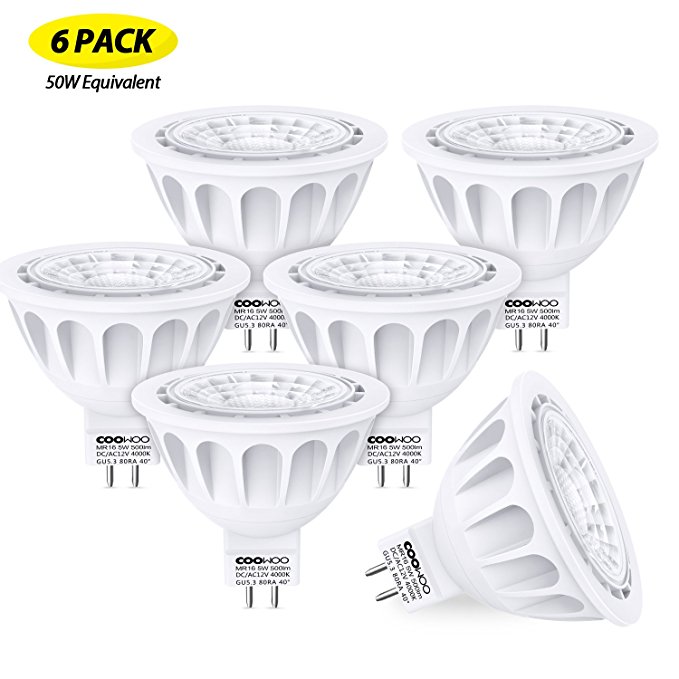 MR16 LED Light Bulbs with GU5.3 Base UL-Listed 50W Equivalent Halogen Replacement Neutral White 4000K 5W 12V Spotlight with 500 Lumens 6 Packs by COOWOO
$18.99
UPC: 191869252553
Key product features:
•
✅ High Performance: The brightest MR16 LED bulb. Backed by up to 500 lumens of light, this 5W MR16 is our brightest in the range and your top choice replacement for 45/50W MR16s.
•
✅Power Saver: It only uses 5W of energy, which means your electricity bills will be significantly lower when switching to LED. This is because lighting is the 2nd highest consumer of energy in your home, so if you swap all your bulbs to LED you'll see huge reductions in energy use.
•
✅ Long Lasting: Lasts not weeks, months, but years. Unlike halogens that blow after just 3,000 hours of use, this 5W MR16 will last up to 40,000 hours. Based on average use that's 15 years.
•
✅ Universal Use: It comes with a narrow 40 degree beam angle that creates a focused lighting effect, ideal for anything from living spaces to decorative areas.
•
✅ What You Get: 6 GU5.3 LED Light Bulbs , 1 year warranty, 100% money back guarantee, and 24/7 friendly customer service.
Color:Neutral White 4000k
About MR16 bulbs:
MR16 lamps were originally designed for use in slide projectors, but see use in residential lighting and retail lighting as well. They are suited to applications that require directional lighting such as track lighting, recessed ceiling lights, desk lamps, pendant fixtures, landscape lighting, retail display lighting, and bicycle headlights. And the base of this MR housing is GU5.3.
So what's new?
★Each bulb is well protected for better storage.
★Every base is a standard fit, so switching over is hassle-free.
★All bulbs are fully FCC and CE compliant.
★Prices are lower than ever to give you unbeatable value.
Specification:
Brand: COOWOO
Housing format: MR16
Base type: GU5.3
Wattage: 5W
Lumen: 500lm
Color temperature: 4000K
Voltage: AC/DC 12V
Beam angle: 40°
Size (mm): 50 x 55mm
Material: Plastics & Aluminum
Dimmable: No
Package includes:
GU5.3 LED Light Bulbs X 6
Safe packaging with outer gift box
Why from COOWOO
Every sales representative of COOWOO have been doing engineering before selling, and this tradition started from my great grandfather. We spend decades focusing on the improvement of lighting technology, taking up the torch of Edison to safeguard human being with lights! We offer 1 year warranty with 30 days worry-free return, so ZERO risk purchasing!